The architectural structure and the simple layout of the internal spaces have been interpreted as emblematic characteristics of the style of the Bergamasco who, by order of Poleggi, was assisted by the architect Bernardino Cantone as head supervisor to the works. Cantone, among other things, is credited with the project and supervision of the works carried out in Strada Nuova, for whose plan we cannot exclude the possible contribution of the architect from Perugia Galeazzo Alessi.
Above the ground floor, featuring the oval atrium, the entrance hall and the courtyard, the building structure presents two state floors, the second one more developed in height, and an attic under the roof.
Every transfer of ownership led to changes in the internal decorations and structure of the building, with functional modifications that revised the general layout, albeit these changes did not radically alter the original sixteenth-century plan likewise in other residences in Strada Nuova.
The drawings by Rubens, published in the second edition of his book Modern Palaces in Genoa (Palazzi Moderni di Genova), as well as the surveys carried out by Gauthier and published in 1818, prove to be precious references when reconstructing the architectural history of the building. By comparing these two sources we can see some changes - dating back to the first quarter of the eighteenth century and attributed to the Pallavicini era - involving mainly the rooms on the second floor looking onto the garden.
The courtyard was made bigger, pushing back an original nymphaeum replaced afterward by today's picturesque fountain, thus giving more space to the side wings, "which were raised and lengthened to the height of the eave of the primitive construction" (Poleggi 1968).
Finally, at the end of the '60's, the architect Albini partially revised the second state floor and the apartment above, with the addition of original structures designed for the Palace's modern life.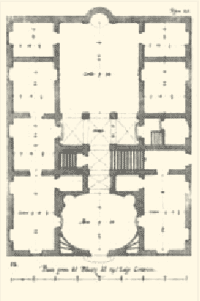 P.P.Rubens, plan of the ground floor of Palazzo Lomellino, from Palazzi moderni di Genova, II ed., Antwerp 1626.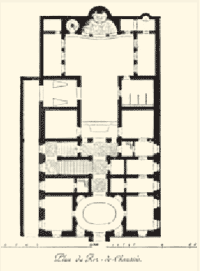 M.P.Gauthier, plan of the ground floor of Palazzo Lomellino, from Les plus beaux é ;dificies, section I, Paris 1818.