The vault of this room, structured on two levels, is likely due to the unification of two adjacent rooms: what can be seen today, two fragmentary scenes, seems to be the consequence of the quarrel between the painter and its client.
On the side overlooking Strada Nuova we can find a first fragment portraying a woman holding a rudder and a boom whose sail is swelled by the wind; a second fragment represents instead a triton holding in one hand a white and red banner, probably the cross-shaped crest of Genoa Republic. The difference of the technique of the fresco fragments is quite evident: the female figure follows the principles of composition and physiognomy of Strozzi, while the triton muscular strength expressed by the chest and its dense and compact forms, led Newcome to hypothesize the intervention of a second artist.
The lunettes, decorated with vegetal and natural themes, can be traced back to the northern landscape-painter Goffredo Waals, who at that time sub-rented the residence of Strozzi, the same house in San Siro that the Genoese painter had on his turn on lease from the Centurione family.
On the side overlooking the alley a tiny 'prie-dieu' has been found, featuring 'rococo' ornamentations, which was probably carved out in the wall during the interventions carried out during the eighteenth century.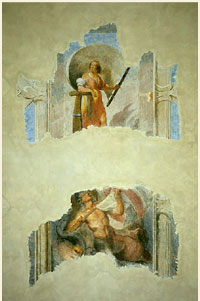 Bernardo Strozzi, room of the Fragments, vault.