The garden, right from its beginnings formed on different layered levels shelved on the hillside of Castelletto, underwent during the eighteenth century, together with the Palace, a major change at the courtyard level and of the first piece of terracing.
Comparing the plans by Rubens and by Gauthier there was clearly an enlargement of the courtyard space for embellishment, obtained by excavating and moving back the retaining wall on the first level of the garden, thus giving more space to the backdrop which would later host the nymphaeum. Similar interventions were carried out in the same period on private residences in the city, in Strada Nuova, as in Strada Balbi.

Magnani traces back to the Parodi direction in order to date the entire relief model construction in the garden: such as the satyrs on the balustrade which faces on to the first layer of terracing, and the five statues which dominate the garden from height of the retaining wall on the second level. Here the theme of Bacchus predominates: two female figures and three male ones, amongst which there is probably also Dionysus, play bagpipes, flutes and other musical instruments.
The retaining wall on the second level of the garden is occupied in the centre by a niche: here a stone pool is decorated by an enormous Silenus in stucco, busy pouring wine . the fountain water . from an amphora in to the mouth of Bacchus. On the western side a grotto opens out, with stalactites and shells, inside the cave a wild boar is trying to hide whilst being hunted by Adonis. We arrive at this place of nature and artifices by following an eighteenth century iron pergola, whose course is lined by marble busts of the twelve Caesers, some of which can be dated back to the Parodi period according to Magnani.
In the documents found, the large pergola in the garden is indicated with the Arab word 'cubba' as with the better known'cubba' at the Palazzo del Principe. Archive papers also mention the presence of an aviary 'of the peacocks', which was restored in 1791 but no longer exists today.
At the centre of the 'parterre' there is a circular pool in white marble with a small Hercules in the middle fighting with a snake, this can also be attributed to the Parodi period. Beyond a tall tower rises up covered with plaster, originally it was equipped with an hydraulic mechanism to guarantee the working of the water supply for the garden, today superb views of the whole complex can be seen from this point.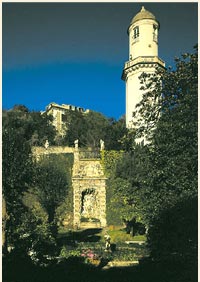 Garden, view of the Tower and the Nymphaeum.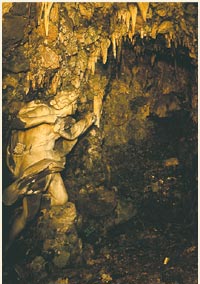 Garden, detail of the cave where Adonis hunts the wild boar.