The access to the three rooms frescoed by Strozzi goes through a wide room, in which the recent restoration works brought back to life a squaring of the walls and seven decorated lunettes, leftovers of a frescoed vault.
The battle scenes and military images recollected by this frescoes are attributed, according to Newcome's findings, to Calvi brothers, artists who have worked in other occasions for the family Centurione.
Looking aloft, all along the opposite staircase, you can see the vault frescoes depicting two seasons: autumn and winter - most likely executed during the seventeenth century.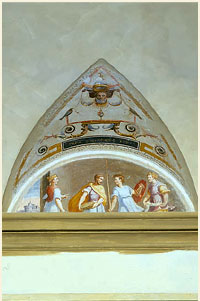 Calvi brothers, Entrance room, detail of a lunette.